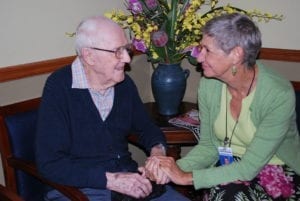 As your parents get older it's natural that they may need additional help. If you're unable to provide the help and care they need on a daily basis, it's time to find help for your parents. Looking for help for elderly parents in South Florida begins with a call to Advocare. We'll help find the right help for your parents and make sure they're comfortable and happy with the services they receive. Beginning with an assessment with help you find the right care for your loved one. There are many options in South Florida for help for the elderly, and our team at Advocare can help you find the right help.  
What services are offered at Advocare?
Advocare has an experienced team of aging life care managers who can help you and your parents. We know that finding the right care for your parents is important, and we'll make sure that through our assessment you can find the right help. During the assessment our aging life care manager will: 
Document all medications 

 

Outline medical history

 

Assess physical and cognitive status

 

Assess home safety 

 

Put together an action plan for your parents

 
This assessment will typically take about ninety minutes to complete. After the assessment we will contact you in a few days will our findings and provide a list of recommendations and an action plan for your parents. This care plan can help you decide what help and care is best for your parents. You can take the time you need to talk with your family and your parents to decide what you think is the right step. Our aging life care managers will also be here to answer any questions you have and help advise you in any way possible.  
How can I get started?
If you've been looking for help for your elderly parents now is the time to contact our team at Advocare. We'll make sure that you and your family get the help you need so you can find the right care for your elderly parents. Our assessment will make sure to help you and your family the most effective way possible. To learn more about our services and to speak with one of our aging life care managers call Advocare today.