Press
The Advocare Team was recently featured in the Atlantic Avenue Magazine. Check out the article HERE.
Advocare's founder and CEO Amy Seigel recently gave an interview on AMP2TV.
Advocare is often consulted by out of town sons and daughters concerned about having a Care Advocate in place for their elderly parents who live at a distance.
Amy Seigel, RN, CRRN, Certified Case Manager recently appeared on Boomer Generation Radio. Click HERE to listen to the podcast.
Amy Seigel, RN, CRRN, Certified Case Manager was recently interviewed on wrpbitv.com! Amy appeared on The Anything Bucket show to educate viewers on the many aspects of care management that Advocare provides to area South Florida residents.
Vi Aventura, a luxury senior living facility, hosted a round table discussion for healthcare professionals. The panelists included Amy Seigel, CCM, CRRN, Founder of Advocare. The discussions were led by Tim Carmichael, CEO of GT Independence, an advocate for the disabled. The roundtable discussed the challenges for advocating for seniors based upon limited resource funding. Following the program, attendees were invited to tour Vi Aventura.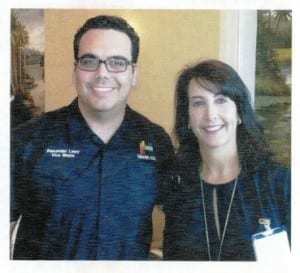 Hallandale Vice-Mayor Alexander Lewy with Amy Seigel of Advocare