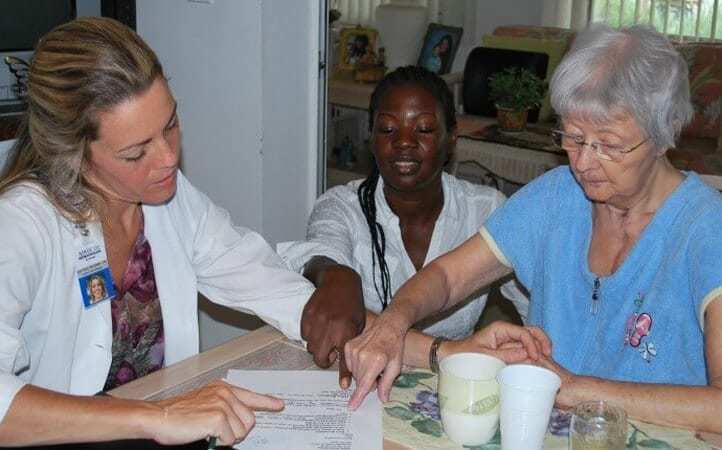 Advocare equips families to make the best selection for the care team their relative or loved one requires. We have a collective approach to care, that guarantees optimal results in the journey of the patient with us. Our main priority is always to improve the quality of life of the elderly, and to be a source of support for the families as well. Although this can represent a drastic change for the individual and his or her relatives, you can rest assured that they will be in the best hands. At Advocare, our Care Coordinators for seniors in South Florida, have devoted their lives to assisting and orienting the family members, and providing love and care to the patients.   
Care Managers serve as the families point of contact, as well as their advisors. They work to develop and implement an effective care plan with the aid of the Caregivers. We believe it all works like a ripple effect, and it all starts from the outer circle. Care Coordinators have a profound effect on the approach and impact Caregivers have on patients. At Advocare, we believe this is the clearest example of team work. In a team, various members work in collaboration to guarantee the final objective is achieved. That's exactly the basis of our approach. The final objective being to maximize the overall health and independence of the individual. One of the crucial steps Coordinators in South Florida take, is establishing an open dialogue with the families. This will allow us to have a better understanding of the specific needs of the patient, and what sort of system will benefit them best. 
Caregivers, for instance, have an even more direct impact on the patient himself. Licensed Home Health Aides and Certified Nursing Assistants, help the elder with more basic activities and tasks of daily living. Their approach will be highly influenced by the information provided by Care Coordinators. Vital information, regarding medication regime, certain food restrictions, and things of that caliber will all be supplied to the Caregiver and that will determine how he or she cares for the patient. A Caregiver will also aid the individual with other things such as grooming, meal-prepping, laundry and light housekeeping, transportation escort to shopping and appointments, assistance with incontinence care and much more.  
At Advocare, we fully stand by this approach toward care. We've seen the results and patients are constantly reaping its rewards. Our Care Coordinators for Seniors in South Florida, as well as our Caregivers are fully trained and equipped to treat but more importantly to care for the individual with the respect, attention and compassion he or she deserves. When you entrust us with your elder relative or loved one, we make a vow to ensure that they're only receiving quality, professional care. 
Contact Advocare for Care Coordinators for seniors in South Florida at (561) 266-3489. We know that you want to only give your family or loved one the best there is, and the best there is its Advocare. No contest. Through our unique and comprehensive approach, we will ensure that your relative is receiving the highest of care.